Trail Map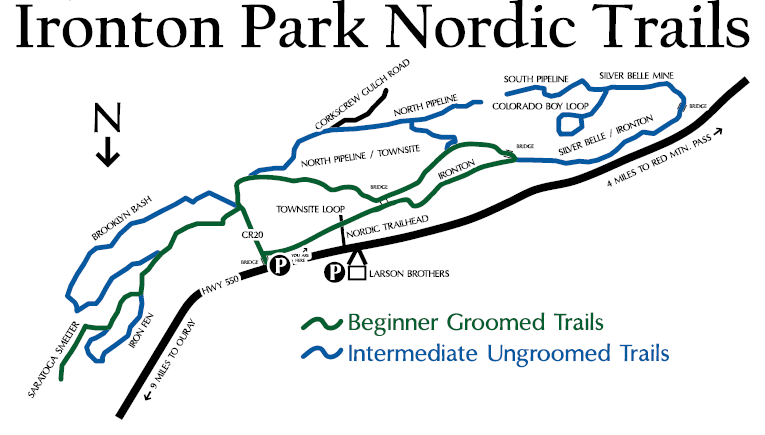 Historic sites along the trail
This guide provides a brief description for a few of the Ironton / Red Mountain area's historic places.  Additional information is available at some of these sites or at the Ouray County Museum.
Larson Brothers Mine
This mine is name for Milt and Harry Larson who inherited it from their fathering the 1920's and worked it for decades.  After Harry died in the 1940's; Milt became the last resident of Ironton until his death nearly 20 years later.
Ironton Townsite
Ironton, founded in 1833, was once a thriving mining community.  It had 325 inhabitants in 1890 and was a supply center for the northern end of the Red Mountain Mining District.  A few recently stabilized buildings remain at the southern end along the Townsite Loop.
Silver Belle Mine
The dump here is the remains of a profitable mine which operated from 1880-1894.  Its ten levels produced over a million dollars in silver.
Colorado Boy Mine
The Colorado Boy loop passes the recently stabilized Colorado Boy head frame.  Its shaft is several hundred feet deep and follows an ore vein that was once the core of a volcano.
Corkscrew Trestle
This trestle once supported a large pipeline built to convey tailings from the Idarado Mine to a pond in Ironton Park.
Saratoga Smelter
The smelter completed the northern extension of the Silverton Railway Line, which the top of Red Mountain Pass.  The railroad, built in the 1880s, was profitable for a couple of decades.  Though the smelter was constructed in the mid-1880s and processed gold and silver ore from rich Red Mountain mines, little remains today.  Much of its material was used to build a ski lodge, seven towers and an 1,800′ ski run at the north end of Ironton Park.  The lodge burned to the ground in a 1940's accident.  Now all that remains is the large stone building next to the highway.
Idarado Mine
Today, the north end of the townsite loop trail circles the Idarado mine tailings pond, which is filled with waste rock from the mill that was further up the valley.  Very active during WWII, the mine was one of the largest in the San Juan Mountains, formed by consolidating over 100 different mining claims.  Large amounts of gold, silver, lead and zinc were produced.  The mine is made up of over 80 miles of tunnels.  The main, or "Treasury" Tunnel, situated south toward Red Mountain Pass, extend through the mountains to Telluride.