Overview
You are in for a memorable day of skiing trails at the Ironton Park Cross-Country Ski Area. From whichever direction you approach Ironton Park (9 miles south of Ouray, 15 miles north of Silverton), the road is steep, windy and its unguarded drop-offs arresting. But the anxiety of sliding off Hwy 550 switches to that of excitement soon enough…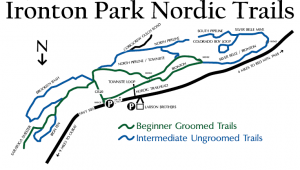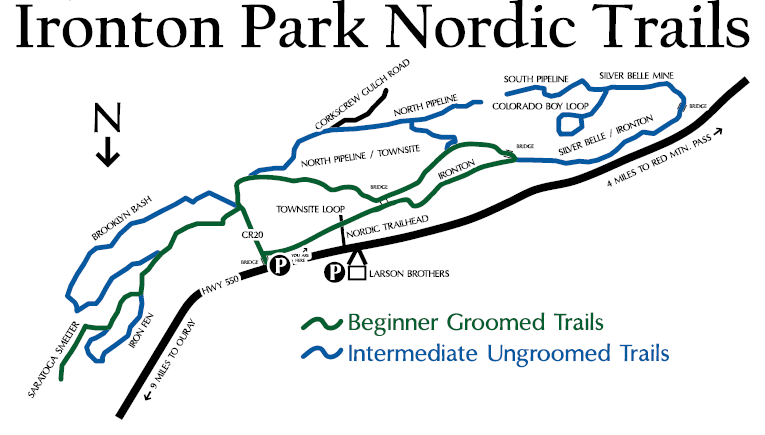 In a fairly level valley at a point less than a mile north of mile marker 85, a wide spot plowed free of snow on the east side of the highway marks the parking lot and easiest access to the trails.
Snow conditions of deep powder to icy may be encountered. The "green" groomed trails, loops of four clearly marked miles groomed with set Nordic track by the Ouray County Nordic Council (OCNC), trace valley contours of mostly moderate terrain. The trails are groomed as soon as enough snow covers the ground, usually sometime in November.
Several miles of more difficult "blue trails" are not groomed, and generally follow old roads and trails to mining claims on the mountainsides. If you have the skills and are looking for amazing views of mountain scenery, ascend these trails. History buffs will opt for the groomed trails. The trail system is routed through the historic ghost town of Ironton where several buildings still stand. They're open too, but take care while exploring within them as the stairways and floorboards are broken or of questionable strength.