Ironton was groomed yesterday.  Ouray North Corridor was too slushy to groom though efforts were made.
Happy Valentines Day!  Take the ones you love skiing!
Read More
OCNC groomed Ironton yesterday.  We will take a look at the North Corridor and decided if the snow is to thin to groom.  That update will come as soon as this has been determined.
Get out and enjoy the skiing!
Read More
Ironton and Saratoga trails groomed and track set yesterday.  Excellent conditions, enjoy!
North Corridor in Ouray will not be groomed until next week as all three of our groomers will be out of town.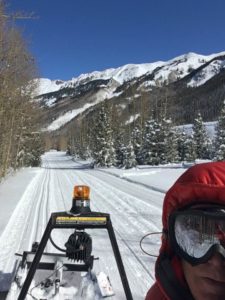 Read More
Ironton and Saratoga are groomed and a track was set…
So get out and enjoy this snow!  Have a great weekend!
Read More
Ironton and The North Corridor are groomed with minimal snow pack. You'll find rocks poking through the snow and a few bare spots. Looks like the weekend may bring more snow.
It's a Christmas Miracle!
Read More